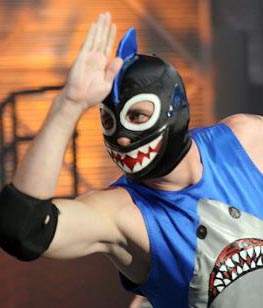 Shark Boy is a huge fan favorite in TNA
While achieving success in any field is a long and uphill battle, becoming a star in the ranks of professional wrestling is truly a daunting task.
For every Hulk Hogan and The Rock out there, there are thousands more that never make it out of the bingo halls and gymnasiums, in the quest towards professional wrestling superstardom.
Every once in a while, however, a wrestler defies the odds; coming out of the independent federations and carves himself a niche in the industry that is truly his own.
For almost three years, Dean Roll, better known to wrestling fans around the world as "Shark Boy," has been a cult-favorite in the Orlando, Florida-based wrestling promotion, Total Nonstop Action Wrestling (TNA). His signature "Jaws" themed music, coupled with his signature "Shark Fin" hand gesture and highflying moves have made him a household name.
Prior to wrestling in TNA, Roll had spent most of his career in independent promotions all over the country, honing his wrestling skills, before eventually competing in WCW (World Championship Wrestling) and WWE (World Wrestling Entertainment).
"I just never give up, no matter what. So many people told me I'd never make it along the way and I used it as motivation to work harder. When I signed with WCW in 1999, it was a dream come true. It felt like all of my hard work had been validated. I had the opportunity to wrestle regularly on national television for the very first time, as part of the 'WCW Saturday Night' program on WTBS. My biggest complaint is that it didn't last long enough," said Roll, who was the Co-Editor-In-Chief of his high school newspaper and believes he would have become a journalist, if he hadn't made it in the ranks of professional wrestling.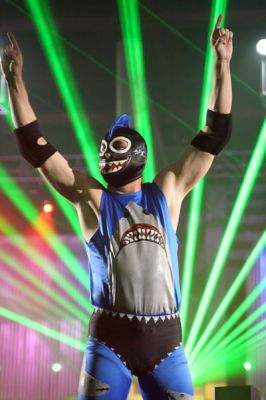 Shark Boy credits the fans for his success in the ring
"By early 2000, I was out of a job again. It wasn't until 2003 that WWE gave me a look. Once again, I felt like I had accomplished a dream when I stepped into their ring for the first time. I only worked a half a dozen shows with the WWE, but the experience was incredible. I signed with TNA a short time later."
Looking back, Roll has nothing but positive things to say about his time in both the WCW and WWE. While he couldn't be happier wrestling in TNA right now, Roll still enjoys wrestling on the independent scene for the simple fact that he loves to interact with his fans, to whom he feels he owes so much of his success.
"Each has its advantages. At independent shows, it's a lot easier to get close to the fans, which I really enjoy," said Roll. "When I'm working in front of the cameras at TNA, it's like stepping into a dream world or something. It really is a larger than life experience. I enjoy that, but still get a great feeling working independent shows as well."
If being a full-time wrestler wasn't enough, Roll also runs his own wrestling school, aptly named, "Shark Tank," located at the HWA Arena in Evendale, Ohio. Taking a page out of the way he performs in the ring, Roll works extremely hard training young aspiring professional wrestlers.
"There are so many schools out there with incompetent instructors who are just looking to take somebody's money," said Roll. "With Shark Tank, I do my very best to help each and every student improve their abilities and get more than their money's worth. I also put my connections to use and help provide new wrestlers with employment, the best I can. My students come away with a solid foundation to build on and while I provide as much help as I can, they are in control of their own destinies. I never ask for a percentage of anything my students earn, after they leave my class."
While being a professional wrestler and trainer takes up the majority of his time, Roll believes among all else, his most important job is being a good husband and father.
"Being away from my family is the single hardest thing about being a professional wrestler," said Roll. "My family will always come first. I devote a lot of attention to wrestling, but everything I make goes toward my children's future, in one way or another."
While the money Roll is making in professional wrestling will, without a doubt, help in the future success of his children, the example of following his dreams and working hard to accomplish them will ultimately mean more to his children than any check he receives for his exploits in the ring.