BROOKLYN, NY- Two days before the Brooklyn Cyclones home opener against the Staten Island Yankees, Cyclones manager George Greer believed his pitching staff was his teams' biggest strength; Cyclones opening day starter Jorge Reyes and the rest of the pitching staff had other things in mind however, giving up runs in seven consecutive innings, leading to one of the worst losses in franchise history, 18-0.
In the end, the game's sluggish pace and final score resembled more of a sloppy pre-season football game than anything close to a game of professional baseball.
Battling wildness from the beginning, Cyclones starter Jorge Reyes just never got comfortable on the mound, giving up seven runs in 1 1/3 innings of work before Greer gave him the hook in favor of Jonathan Castillo.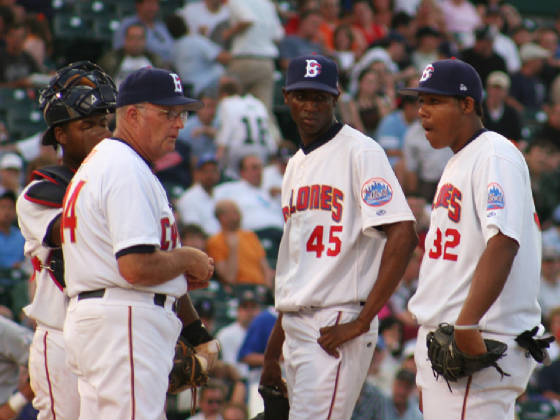 Dealing with early control problems, Reyes (45) was pulled after only 1 1/3 innings
Unfortunately for Cyclone fans, Castillo didn't fare much better, giving up seven runs over 2 2/3 innings. By the fifth inning, the Yankees had four home runs over the right field fence under their belt.
Ironically, Brooklyn only hit four home runs over the right field fence during the entire 2005 season.
Yankees first baseman Kyle Larsen hit two of the four Yankees bombs, while Brian Argon and Tony Roth would also add dingers of their own.
More disappointing than giving up 18 runs to their arch-rivals was the sloppy play that seemed to engulf the entire Cyclones team. Leaving 13 runners on base and committing five errors during the course of the game turned a jam packed Keyspan Park crowd of 9,004 into a ghost town of hundreds, pity clapping for the team by game's end.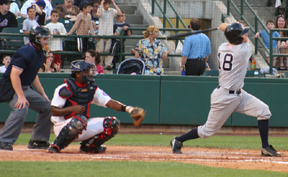 Tony Roth's three-run homer put the game away for the Yanks
Greer, while admitting that his pitchers were leaving the ball too high in the strike zone and weren't finishing off the hitters they needed to in order to be successful, insisted moments like these are experiences that all teams go through and must deal with, seeming confident that his young team would have no problem pulling themselves back together after such a bad loss.
"In professional baseball, where you play everyday, you have to realize that today is over and tomorrow begins a new day," said Greer. "Many of these folks haven't experienced that before so it's a learning process for everybody."
All Photographs for this article were taken by Conroy Walker