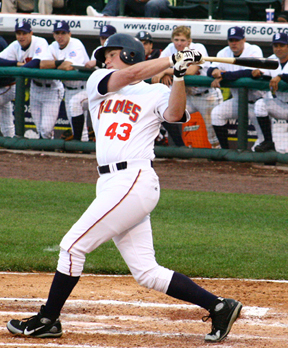 The Coney Island wind practically robbed Mark Wright of a homer
BROOKLYN, NY- For the forth time in five games this season, the Brooklyn Cyclones failed to score more than two runs, committed costly errors and wasted another solid pitching performance, leading to a 4-1 loss to the Hudson Valley Renegades.
If pitching against 2006 First-Round pick Evan Longoria wasn't enough, Brooklyn Cyclone pitcher Jorge Reyes would have to battle wildness for the second time in as many starts. After throwing 2 2/3 innings of perfect ball, Reyes would hit a bump in the road in the 3rd; walking two and giving up a pair of singles that would cost Brooklyn an early lead and have them down .
Grady Hinchman would take over for Reyes in the sixth, striking out four consecutive Renegades in a solid 2 1/3 inning performance, before giving the ball to Joe Smith in the 8th with one out and a runner on first. Smith, a 3rd round draft pick this year, battled both control problems and bad luck in his two innings of work, committing an error on a would-be inning-ending double play and would later hit Ian Paxton with the bases loaded. The result was an earned run charged to Hinchman and by the middle of the frame, the Cyclones were down 4-1.
From the game's first pitch tonight, one thing was made painstakingly clear, the Cyclones pitching staff was doing everything it had to keep the team in the game, but it just wasn't meant to be.
Before tonight's game, Cyclone starter Tobi Stoner, who threw five innings of shutout ball against Aberdeen on Friday, believed that the Cyclone pitching staff was starting to really come together.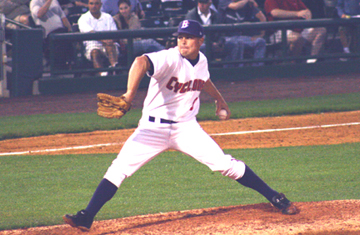 Grady Hinchman pitched great out of the Cyclone Pen
"We're learning. We're not here to strike everybody out; we're not here to have perfect game shutouts or anything like that," said Stoner. "We're here to not only pitch, but also to think as pitchers. Baseball among everything else is a mental game. We're all learning that very quickly, we're all coming together and we're on the same page."
The Cyclones offense on the other hand, is desperately looking for someone or something to get them kick-started. Tonight, Brooklyn called on another young gun, bringing outfielder Elvis Cruz down from Hagerstown, joining catcher Jason Jacobs, who started the team's last game against Aberdeen after his college team, Georgia, lost to Oregon in the college world series.
Despite Cruz and Jacobs both having a hit a piece, there additions into the lineup didn't pay big enough dividends for the Cyclones to induce a win. The rest of the team's bats would also be held in check yet again this young season, this time by the Renegades Jeremy Hellickson, who gave up two hits over four scoreless innings.
The Renegades bullpen was also effective, making up for Longoria and the other quiet Renegade bats. Roberto Gil, Matt Larson and Neal Frontz combined for five shutout innings out of the pen, stifling the Brooklyn attack to the tune of only seven hits, with only one being of the extra base variety. While the Renegades pitching performance was far from mediocre, they were helped immensely by some great defensive plays and by the huge wind coming in from Coney Island, which practically robbed a homerun from Cyclones designated hitter Mark Wright.
Despite the Cyclones miniscule offensive output again tonight and throughout this short season, Greer, who, addition to making positive comments about Jason Jacobs's and Mark Wright's hitting tonight, seems confident that the team will rebound as the season goes on.
"I think you're seeing flashes of it right now," said Greer. "Things are starting to look better for us."
All Photographs for this article were taken by Conroy Walker