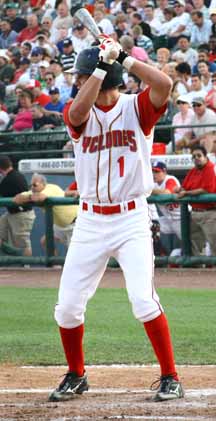 Holden got the Cyclones offense going today
BROOKLYN, NY-
Looking to win their second consecutive series at home, the Cyclones offense got production from an unlikely source in Jeremy Hambrice, whose solo homer in the seventh inning sealed the deal after another great pitching performance from
Brooklyn
's staff, leading to a 3-1 victory over the Tri-City Valley Cats.
"I can't say enough about how the character of this team is developing," said Cyclones manager George Greer. "They don't want to lose. There's just this feeling that they can come back from any type of adversity."
Looking to make up for a poor offensive showing last night off Valley Cats starter David Qualben, Brooklyn looked to give starting pitcher Tobi Stoner the run support they failed to give Eric Brown. Stoner, like most of the Cyclones starting rotation, has been phenomenal of late and solid throughout most of the season, giving up only 35 hits in 46.2 innings with a 4-1 record through eight starts.
"I didn't have my best stuff, I had good speed, but I didn't have the command I wanted," said Stoner, who nevertheless wound up throwing 5.1 innings before being replaced by Jonathan Castillo in the sixth. "I wasn't scared to have them hit the ball; I just didn't want them to. I wanted to bully them and dominate, it didn't turn out that way, but I'm happy we got the win."
Thanks to a RBI single from Joe Holden in the fifth, Stoner would have a chance to be the game's winning pitcher, but after a Castillo wild pitch trickled through the legs of Cyclones catcher Danny Cummins with runners on first and third, Tri-City would score a run and the game was tied 1-1. While Cummins would accept responsibility for costing Stoner a win after the game, it was his RBI single that would score Dustin Martin in the sixth and would give Brooklyn the lead back.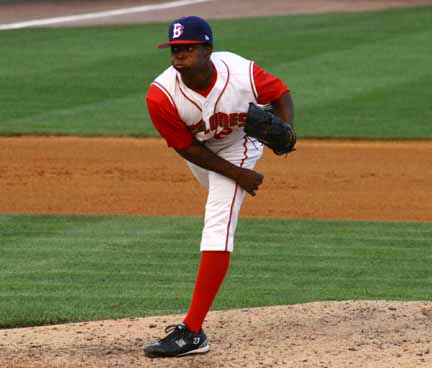 Castillo continued to dominate opposing hitters tonight
"It seems the only time I'm hitting the ball is when people are on base," Cummins said.
After scoring a run in both the fifth and sixth, the Mets Single-A affiliate would add another run in the seventh, this time coming off the bat of backup first baseman Jeremy Hambrice, who's solo homer off Valley Cats reliever Chad Wagler sailed over the left field wall at Keyspan Park in a flash.
"I had a feeling Hambrice was going to hit the ball hard, but not that hard," Greer said. "He had taken some good swings and I just felt he found his rhythm and was going to hit the ball hard and he did."
"It felt good to see a pitch on that side of the plate and I just let my hands do the work," said Hambrice, who in limited duty this season is hitting .222 with four doubles. "I knew it was out as soon as I hit it."
After getting a two-run cushion following Hambrice's homer in the seventh, Jose De La Torre would replace Castillo and would continue to silence the Valley Cats offense in the eighth and ninth, giving the Cyclones a hard fought 3-1 victory.
With tonight's win, Brooklyn is now in sole possession of first place in the McNamara division and can stretch their lead to three games if they sweep their next series with the Staten Island Yankees, who just happen to be one game behind them in the division.
"Everybody's doing a great job," said Castillo, who hasn't given up an earned run since opening day. "We're keeping it together as a team and we're working hard everyday so we can win a championship."
All photos for this article were taken by Conroy Walker