BROOKLYN, NY- After taking two games in a three-game series against the Jamestown Jammers this weekend, the Brooklyn Cyclones did the unthinkable, scoring four runs for starter Nelson Portillo, leading to a 4-1 win over the Mahoning Valley Scrappers.
Suffering from a lack of run support in all but one of his starts this season, Cyclones right-hander Nelson Portillo would continue his stellar pitching, lowering his ERA to 2.92; giving his teammates six strong innings and every opportunity to come through with a win.
While the Cyclones got another strong outing from Portillo, Mahoning Valley Second Baseman Jared Goedert would get the Scrappers on the board in the first with an RBI single, forcing Brooklyn to come from behind before their first time at bat.
Despite scoring nine runs on 18 hits on Friday against Jamestown, the Cyclones as a team were still hitting a lackluster .217 for the season. However, a few players were starting to show signs of life at the plate as of late, as the team's first three hitters in the order, Joe Holden, Jon Schemmel, and Dustin Martin have all been on a tear, hitting over .320 through the teams last ten games.
"Especially when the first three guys are hitting, it helps the other guys get going" said Martin. "When we put pressure on people like that, the hits come in numbers."
Unlike Portillo, Scrappers starting pitcher Joshua Tomlin wasn't as solid, giving up three runs in five innings, thanks to a Ivan Naccarata two-run homer in the fourth and a Jon Schemmel sacrifice fly in fifth, giving the Cyclones a 3-1 lead after five innings. That would prove to be the end of the line for Tomlin, who then gave way to by Daniel Miltenberger, who would get into trouble of his own in the sixth, giving up two hits and a run on a wild pitch, extending the lead to 4-1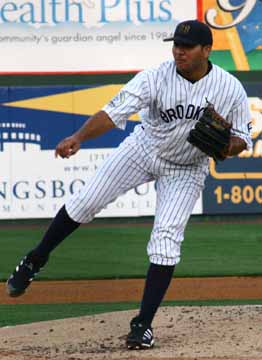 Portillo finally got the run support he needed to win
The Cyclones bullpen would take over for Portillo in the seventh and would continue to be the team's saving grace this season, as Grady Hinchman, Jose De La Torre and Joe Smith would twirl three scoreless innings to seal the deal for Brooklyn.
"I go right at people, here it comes, try and hit it" said Smith, who struck the side out in the ninth for his eighth save of the year. "You just got to go right at people when you have a three run lead."
For the first time since July 10th against the State College Spikes, the Cyclones won a game at home and did so in convincing fashion, combining solid pitching with a steady diet of runs. After the game, Cyclones manager George Greer seemed more than happy with his team's performance.
"I think that we're satisfied for the moment," said Greer. "But we need to refocus and try and do it again tomorrow."
All Photographs for this article were taken by Conroy Walker