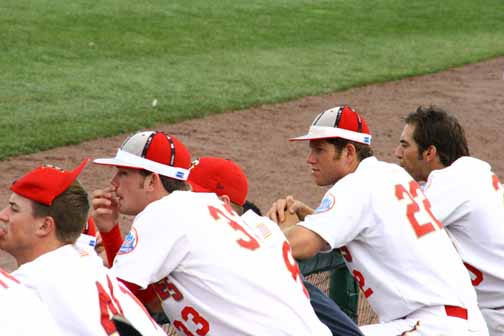 Rally Caps wouldn't be enough to get the Cyclone bats going
BROOKLYN, NY- Looking to avoid being swept in a three-game series against the Oneonta Tigers, the Brooklyn Cyclones continued to get great pitching from their entire staff, but failed to amount any significant offensive attack, losing the longest game in NY-Penn League History in 26 innings, 6-1.
Desperately trying to find something to get them going offensively, the Cyclones were aggressive on the base paths in the first. A Danny Cummins double would score Dustin Martin, giving Brooklyn an early 1-0 lead. However, two controversial calls by Umpire Adam Hamari would prevent the team from batting around during the inning, and would also result in Cyclones manager George Greer getting ejected from the game.
"In my opinion, there was no tag on second base on the force play," said Greer in regards to the second call he argued in the inning, which involved Jon Schemmel being tagged out at second base. "I expressed my opinion and he didn't like it, so he asked me to leave."
Hitting Coach Scott Hunter would take Greer's place, managing the rest of the game for the Cyclones, while Left Fielder Elvis Cruz and First Baseman Jeremy Hambrice would share the first base coaching duties for the rest of the game.
The Tigers would answer back quickly, tying the score on a Ryan Strieby RBI single in the fourth, but that was all the offense they would be able to muster off Brooklyn starting pitcher Eric Brown. Giving up only the one run in seven innings pitched, Brown kept the Tigers in check, getting ten groundouts through the first five innings he pitched. Coming off a shaky start in his 2006 Cyclones debut on July 15th, where he gave up four runs in 5.2 innings, Brown was out to cement his spot in the starting rotation.
"I got a lot of ground balls from my two-seamer," said Brown. "The defense did a great job again and made all the plays, I just threw strikes, tried to stay ahead of the hitters and not fall behind."
While Brown's performance today was masterful, Tigers starter Christopher Cody was equally impressive, scattering four hits on one run in six innings before being replaced by Tiger reliever Tim Robertson. Robertson would pitch to only two batters however, giving up a single to Tim Grogan before walking pinch-hitter Ivan Naccarata, paving the way for Casey Fien to get the Tigers out of trouble with runners on first and second with only one out.
Fien would do just that, coming through in the clutch for the Tigers, striking out Joe Holden and getting the next hitter, Jon Schemmel, to fly out to Right Fielder Brennan Boesch, keeping the score tied.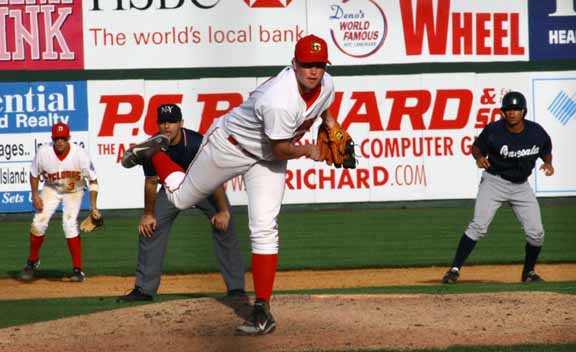 Wright pitched great in his first inning, but looked tired in the second
Cyclones closer Joe Smith would replace Brown in the eighth and would continue to marvel the Keyspan Park crowd this season, striking out the side in the eighth and throwing a scoreless frame in the ninth, giving the Mets Single-A Affiliate an ample opportunity to come up with a win.
However, Fein continued to dominate Brooklyn hitters and would get out of the eighth without giving up a run, forcing the Cyclones to find a way to come up with some walk-off magic in the ninth in order to send the 9,004 fans in attendance home happy. However, Fein would weave some magic of his own, getting them in order, forcing the game into extra innings.
Jeremy Mizell would replace Smith in the tenth and like Smith; Mizell would continue to dominate opposing hitters. Mizell would hurl four scoreless innings, waiting patiently for the Cyclones bats to come alive and send him home a winning pitcher.
Unfortunately, Mizell wouldn't get his wish, being replaced by Jonathan Castillo in the 14th. Castillo picked up right where Mizell left off, racking up six K's over five innings pitched. Rip Warren replaced Castillo in the 19th and after almost five hours of gameplay, one thing was apparent, the Cyclones bullpen was making a statement, proving just how talented they really are.
The bullpen continued to dominate into the 20th inning and beyond, as Grady Hinchman would replace Warren and come into the game for the Cyclones in the 23rd inning and keep the Tigers scoreless through the 24th.
After depleting most of their bullpen, Brooklyn was forced to have designated hitter Mark Wright come off the bench to pitch the 25th inning. Yes, Mark Wright pitched the 25th inning for the Cyclones and amazingly, retired the Tigers in order.
Unfortunately for Wright, he wouldn't have the same control he had in the first inning, throwing two wild pitches and walking a pair before giving up a two-run single to Diek Scram, giving the Tigers a 3-1 lead. Things would prove to get even worse for Wright as the Tigers would add three more runs to put the game away at 6-1.
"Basically at that point, we were just drawing straws," said Cyclones Hitting Coach Scott Hunter. "We ran out of pitching, some of our bullpen guys went out there on one days rest and gave us two and three innings. Our pitchers did a great job, we couldn't have asked for any more out of them. We got to a point where we didn't want to hurt them and asked around to find out who's pitched previously and Mark [Wright] asked to do it and did a great job in his first inning.
"Unfortunately, we couldn't hold them off much longer. I went out there in the 26th to see how he was feeling and I asked him if he could give me another batter and he said he could. That just shows you what kind of kid he is. He really took one for the team."
Tigers reliever Randon Bierd pitched a scoreless inning in the 26th, giving the Tigers a 6-1 victory.
While many believed that this game proved to be a testament to the inability of the Cyclones offense, managing only 14 hits and one run in 26 innings, Hunter believes the bats will heat up eventually.
"I think we just have to keep plugging away," said Hunter. "These kids have a history of hitting, especially the ones that are in their second and third years, it's inevitable. These kids work too hard and have too much ability to keep going like this."
All Photographs for this article were taken by Conroy Walker