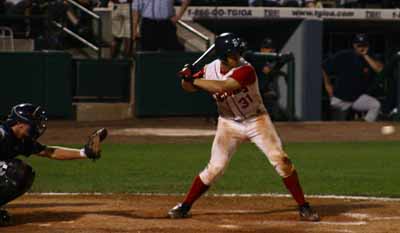 Jason Jacobs RBI double in the sixth got the team going offensively
BROOKLYN, NY- Coming off four consecutive losses with not a light on the team's offense shining, the Brooklyn Cyclones finally produced the runs they needed to win, taking full advantage of another solid pitching performance from their young and energetic staff, in league to a 5-4 win over the State College Spikes.
"It was good to see multiple hits and a multiple run inning," said Cyclones Manager George Greer. "They're trying to do exactly what we're preaching in practice."
The Cyclones would strike first in this one, but like many of the runs they've scored this year, the run that was put on the scoreboard would have little to do with their bats.
Spikes starting pitcher Brad Furnish was wild in the first, hitting lead-off hitter Jeremy Hambrice and throwing two wild pitches to the next batter, Jonathan Schemmel, which not only advanced Hambrice to third, but also made it possible for Hambrice to score after Schemmel grounded out, giving the Cyclones an early 1-0 lead.
Tobi Stoner would get the start tonight for Brooklyn, coming into tonight's game with 1-1 record and a 2.70 ERA in three starts. Stoner would continue to impress the Keyspan crowd tonight in another solid outing, striking out four Spikes in his first two innings pitched, eventually racking up six punch-outs before the games end.
"I thought he was magnificent," said Greer. "He kept his pitches down and he threw strikes."
Despite his early success, Stoner would get himself into trouble in the third, walking Spikes Catcher David Carpenter to start the inning and gave up a sacrifice fly to Spikes Shortstop Willian Sandoval, allowing Carpenter to score, tying the game.
Unfortunately for the Cyclones, one run proved to not be enough for the hungry Spikes bats during the inning, as they would jump out to a 2-1 lead after a Jared Schweitzer RBI single and after a Nathan Southard RBI single, the Spikes would be up 3-1 after just three innings of play.
After Furnish threw three consecutive scoreless innings for the Spikes, the Cyclone bats would wake up in the fifth, getting a Mark Wright single and Luis Rivera double before a Jeremy Hambrice RBI ground out that would score Wright and cut the .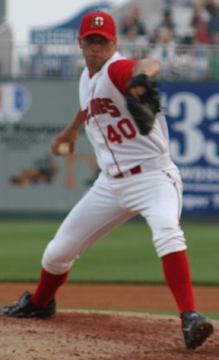 Stoner racked up six K's in five plus innings pitched
Fortunately for the Cyclones, Stoner would rebound after a rocky third, throwing 2.1 scoreless innings before being replaced by Grady Hinchman, who would get the last two outs of the sixth and keep the score 3-2.
"I felt great. I just kept doing what I've been doing [all season]," said Stoner. "I had one bad inning, they really didn't hit me hard, but there are some things I need to learn."
Lance Marcum would replace Furnish in the sixth for the Spikes, looking to continue a 11.2 inning scoreless- inning streak; unfortunately for Marcum, the Cyclone bats continued right where they left off the inning before, getting back to back singles from Jon Malo and Jonathan Sanchez before Marcum gave up his first earned run of the year on a Jason Jacobs double that tied the score at 3-3. An intentional walk to Dustin Martin later would load the bases for Luis Rivera with one out, who would get another run home on a fielder's choice and after six innings, the Cyclones had their second lead of the game, 4-3.
The Cyclones would continue to score runs in the seventh, as Spikes reliever Brian Schroeder gave up an Elvis Cruz single and after two wild pitches to the next batter Jon Malo; Cruz would score, extending the Cyclone lead to 5-3.
Like most late inning leads the Cyclones have had at home this season, the bullpen kept the lead, but it wasn't without its share of scary moments.
After giving up a run in the eighth, Hinchman would strike out Spikes slugging First-baseman Mark Hamilton before being replaced by Tim Haines with runners on first and second. Fortunately for the Cyclones, Haines would get pinch-hitter Yonathan Sivira to ground out to end the inning, keeping the Cyclones lead intact going into the ninth.
Joe Smith would come out of the bullpen and would continue to dazzle the Keyspan crowd, throwing a scoreless ninth en route to his third save of the season.
While the Cyclone bats weren't on fire tonight, they did provide their pitching staff with the support they needed to pull out a victory. That, combined with a little luck had Cyclones Manager George Greer doing something he hasn't done much this season, smiling.
"All I can tell you is that we deserved to win tonight," said Greer. "The pitching was superb. If you can combine that will timely hitting and good defense, I think that helps get the momentum on our side."
All Photographs for this article were taken by Conroy Walker