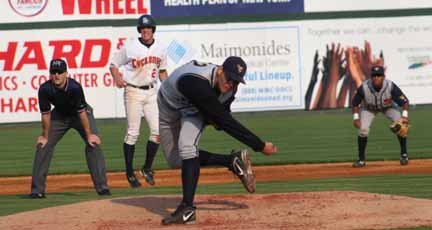 Ottavino silenced the Cyclones offensive attack tonight
BROOKLYN, NY- A week ago, the Cyclones were riding a four-game winning streak, getting just enough hitting to survive; now, a week later, the team finds themselves in a different kind of streak, losing their fourth game in a row and second consecutive to the State College Spikes, 3-0.
Gregory Mullens would start his first game of the season for the Cyclones after being assigned to the team from Kingsport on Saturday. Mullens, who had a 3-0 record and a 2.08 ERA while with the K-Mets, was hoping to bring some of his rookie league success to Coney Island.
Fortunately, Mullens pitched effectively in his debut, throwing five plus innings, allowing two earned runs on three hits.
"I was very excited but I was just trying to throw strikes and get some ground balls," said Mullens. "In the first inning I was a little out of rhythm I think, but my fastball low in the zone was getting me a lot of ground balls. I started mixing in my curveball later on and got a few swing and misses with that."
Cyclones Manager George Greer thought Mullens did everything he could to help his team win.
"I thought he pitched well and handled himself well today on the mound," said Greer. "He was with us in extended spring training and pitched just like that. He doesn't give the opposition much, but when you only get two hits, they don't need much. I thought he did a great job and threw strikes; he kept us in the game and you can't ask for much more out of your starter."
Throughout the season, errors have played a huge part in Cyclones losses and tonight wouldn't be any different. Despite Mullens not giving up a hit in his first inning of work, a walk to Spikes left fielder Nathan Southard would open up the flood gates as Southard would then steal second base and advance to third on a throwing error by Brooklyn catcher Jason Jacobs. With Southard on third, Spikes first baseman Mark Hamilton would ground out, scoring Southard and putting the Spikes up 1-0 after their first turn at bat.
Hamilton would get another RBI in the fourth, nailing a Mullens breaking ball over the left field wall for his sixth homer of the season, giving the Spikes a 2-0 lead. Ironically, Hamilton's homer was the first Spikes hit off of Mullens.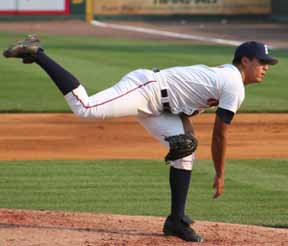 Mullens pitched well in his first start with the Cyclones
Like most of their games this season, the Cyclones failed to respond after an early deficit, as Spikes starting pitcher and Brooklyn native Adam Ottavino would shut down Brooklyn's offense, striking out seven and would have a no-hitter broken up via a line drive single by Jonathan Sanchez in the top of the fifth.
Jacobs throwing problems would continue in the sixth, with Spikes Center Fielder Jim Rapoport advancing on an errant throw with no outs. Hamilton would get his third RBI of the game after bringing Rapoport home on a single to right field, putting the Spikes up 3-0. That proved to be the last hit Mullens would give up, being replaced thereafter by reliever Jeremy Mizell, who would stop the bleeding and keep the score at 3-0.
Sadly for Mullens, two hits was all the Cyclone bats could muster. Ottavino was brilliant through six, allowing only one hit and two walks. Despite solid work from Mizell and the rest of the bullpen [ Joe Smith threw a scoreless ninth], the offense failed to put any runs on the board against Spikes relievers Kyle Sadlowski and Jason Motte in the final three innings, forcing 8,070 Cyclone fans to go home without their team scoring a run.
Greer believes it's only a matter of time until the team gets going offensively, saying the team is still trying different combinations with their line up until they find something that works.
"We're going to keep trying until we get a combination that clicks," said Greer. "Until that time, we're going to see if we can put some on-base-percentage guys up and get them on base and see if we can get somebody to come through and get a big hit for us."
All Photographs for this article were taken by Conroy Walker