BROOKLYN, NY- After extending their winning steak to a season-best three games on July 4th against the Hudson Valley Renegades, the Brooklyn Cyclones continued to get great pitching from their staff and got just enough hitting to ensure another hard fought victory, defeating the Staten Island Yankees 1-0.
After getting blown out by the Yankees on opening day 18-0, the Cyclones pitching staff has put the pieces back together in grand style, managing a modest 3.74 ERA before tonight's game in spite of the opening day massacre and has been the main reason for the team's recent success.
Jacob Ruckle would get the start tonight for the Cyclones, who after throwing eight shutout innings in his last start, was on top of his game yet again tonight, twirling a one-hit shutout through 8 2/3 innings, silencing the same Yankee attack that smothered Brooklyn's pitching staff the last time the two teams faced off.
"I just try and throw strikes, change speeds and locate pitches," said Ruckle. "I did the same thing in St. Lucie and I'll continue to do the same thing wherever I go. [Tonight] I spotted my fastball and had command of my change up. To me, my change up is my best pitch, so I went with my strength and located my fastball and threw all my pitches for strikes. I also had a very good defense behind me."
After an Elvis Cruz error in the bottom of the ninth with two outs, Ruckle was replaced by Cyclones closer Joe Smith who struck out Yankees catcher Francisco Cervelli to earn his second save of the season and end the game.
"I was disappointed to take him out, but there was no hesitation on my part," said Cyclones manager George Greer, in regards to why he didn't let Ruckle, who has yet to throw a complete game in his pro career, finish the game. "We have Joe Smith in the bullpen, and the way the runner got on base, I didn't want him [Ruckle] to have a mental lapse and leave a ball up. You get a double down the third base line with their two, three and four hitters next and I didn't want Jacob Ruckle to have a no-decision; well, I didn't want him to have a loss."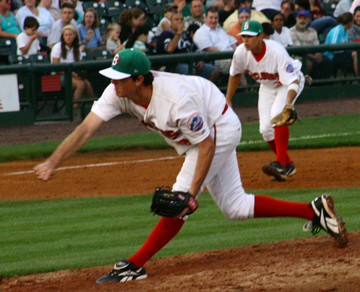 Ruckle was on his game tonight, hurling 8 2/3 innings of shut out ball
Tonight Ruckle was opposed by Yankees right-hander Tim Norton, who despite a 4.09 ERA, has shown flashes of dominance this season, striking out 11 in as many innings with only one walk. To the chagrin of the Cyclones, Norton would continue to strike out opposing hitters, racking up six strikeouts in six innings pitched.
Looking to provide Ruckle with the same run support they provided Nelson Portillo on Tuesday, scoring seven runs against Hudson Valley, the Cyclones were hopeful the offensive would continue right where it left off. However, Brooklyn's offensive woes would continue tonight, providing Ruckle with only six hits and one run coming off of a two-out Jonathan Schemmel drag bunt that would score Luis Rivera from third and give the Cyclones a 1-0 lead in the third.
Fortunately for Ruckle and the Cyclones, that's all the runs he'd need.
After the game, Schemmel explained his reason for bunting with two outs and runners in scoring position.
"There pitcher was obviously shutting us down and we weren't getting many hits off of him," said Schemmel. "I took a peak at the third baseman and I wasn't going to do it [bunt] on the first pitch, but he threw me a ball on the first pitch which allowed me to have that opportunity and he (Yankees third baseman Timothy O'Brien) was playing three or four steps behind the bag and I figured we'd try and steal a run there."
Greer not only applauded the great play by Schemmel after the game, but he also described how well he feels the team is playing right now.
"I didn't make that call," said Greer in reference to Schemmel's game winning RBI. "But it was a great play. The kids are playing well right now; the pitching is doing well, the defense is coming through and we're getting timely hitting, even if it was a bunt tonight, which is great because it was the perfect time to do it, when the infield is back and you have a superb bunter at the plate."
All Photographs for this article were taken by Conroy Walker