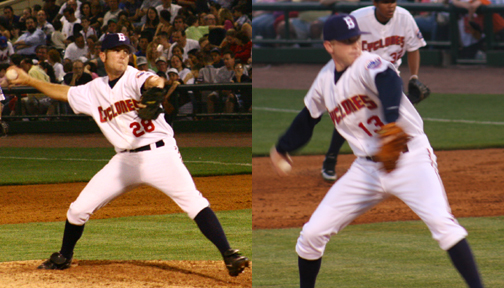 Quiet Cyclone bats would spoil quality outings for both Mizell and Waechter
BROOKLYN, NY- Looking to end a two-game skid to start their 2006 season, the Brooklyn Cyclones unfortunately continued right where they left off the last time they played at Keyspan; giving up three runs in the first inning, committing costly errors and failing to produce with runners in scoring position, leading to a 5-2 loss to the Staten Island Yankees.
Unlike Jorge Reyes's performance Tuesday night, Cyclones starter Jeramy Simmons put the pieces back together after a rocky first inning, giving up one run on four hits in his final three innings before being replaced by reliever Nick Waechter.
Tonight, the Cyclones pitched their best baseball thus far this young season. However, Yankees starting pitcher Rolando Japa was one step ahead the entire night, throwing four shutout innings before giving up a double to catcher Stephen Puhl and a sacrifice fly to Armand Gaerlan in the fifth to bring Brooklyn within three runs.
Despite giving up two doubles in two innings of work, Waechter ended each inning he pitched with strikeouts, bringing some life back into the Cyclone crowd that desperately wanted their team to start hitting. Jeremy Mizell also added two shutout innings of his own, keeping the score at 4-1 Yankees after eight.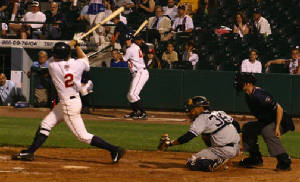 An RBI single by Dustin Miller in the 9th wouldn't be enough for the Cyclones
After four shutout innings, the Cyclones bullpen had some problems in the ninth, as reliever Tim Haines couldn't find the plate, throwing a wild pitch that would add another run for the Yankees, forcing the Mets Single-A affiliate to score five runs to come up with a win. They wouldn't be up to the task, despite a run scored by Junior Contreras on a Dustin Martin single in the final frame.
To the dismay of many fans, the Cyclone bats continued their trend of sub par hitting in their second home game of the season, mustering only six hits and leaving a whopping fourteen runners on base.
While Cyclones manager George Greer was happy with his bullpens performance, he did have something to say about his team's inability to score runs.
"When we find roles and niches for everybody, you'll see a different ball club," said Greer.
All Photographs for this article were taken by Conroy Walker