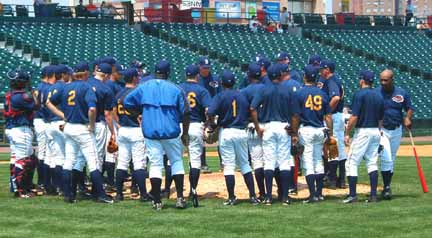 Coming off a 3rd place finish last year, the Cyclones look primed for a solid season in 2006
BROOKLYN, NY- Like the days when Johnny Podres and Sandy Koufax were pitching their hearts out in Ebbets Field, last season Brooklyn Cyclones fans were treated to an abundance of well pitched games, witnessed by the team's season ending ERA of 3.43.
If one look at this year's pitching staff is any indication, the trend of solid pitching in Brooklyn will continue again this summer.
This season, even with Cyclones pitching phenoms from last season, Bobby Parnell and Waner Mateo being assigned to the Hagerstown Suns, the sky is the limit for this year's pitching staff, which is filled with picks from this year's draft that will be looking to prove themselves in their first season as pros.
"The pitching staff is the major strength of the team right now," said Cyclones skipper George Greer, who begins his first year as the Cyclones manager after an extremely successful 17-year college coaching career at Wake Forest that spawned 29 All-Americans including Ron Darling, Greg Vaughn and Will Clark. "We hope that by the end of the first couple of weeks that we'll start to hit and run the bases and do what we have to do to win ball games."
While Greer would later say that his rotation has not been set as of yet, he would also say that Jorge Reyes; the six foot four right-hander who started 13 games for the Cyclones last season will get the nod in the home opener against the Staten Island Yankees on June 20.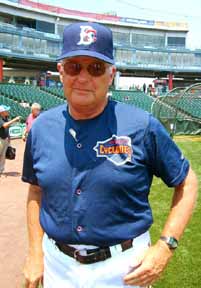 George Greer is confident that the Cyclones bats will be productive this season
Even with his pitching rotation still undetermined , Greer has plenty of options; having talent in both his bullpen and in pitchers that are capable of starting. Submarine-style throwing Tim Haines and Nick Waechter look to be the foundation of the Cyclones bullpen this season, vowing to lower the teams ERA from last season, while recently signed Jeremy Mizell and Davis & Elkins College standout Tobi Stoner give Greer two strong arms he knows are capable of eating up innings for his club.
On the other side of the diamond, the Cyclones offense, while showing signs of being much better than last year, is still a question mark according to Greer.
"I think their hitting will come along," said Greer. "It's a transition from the aluminum bats in college to wooden bats in professional baseball and we just have to be patient with them as they learn to cope with that transition."
Slick fielding Cyclones infielder Armand Gaerlan echoed his manager's thoughts on patience about the teams' offense.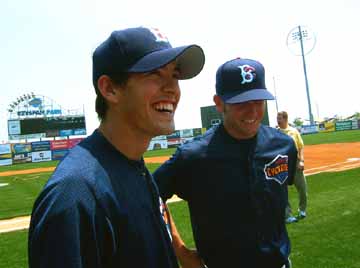 Tim Haines and Jeremy Mizell look to be key contributors to the Cyclones Pitching Staff this season
"There's a lot of positive outlook on our hitting," said Gaerlan, who despite hitting .219 last season for the Cyclones, stole eight bases and at times proved his ability in getting on base. "We have a couple of guys here with some experience. There are a lot of new guys I haven't even seen play yet. You really can't count on anything until the season starts and people get comfortable. Hopefully, we all come out of the gate swinging hot bats."
One of those bats that hopefully comes out swinging for the Cyclones is the recently drafted Dustin Martin, who hit .389 this year as a senior at Sam Houston State. Martin, who Greer described as a player with a high level of ability that will be able to provide the Cyclones with solid defense as well as power at the plate, will be depended on to make sure the teams batting average is a little more respectable than the .243 the team hit last season.
Another player who seems determined to provide a spark to the Cyclones offense this season is the hulking six foot five, 262 pound Junior Contreras, who hit .291 and smashed eight home runs in only 46 games with the Gulf Coast Mets last season.
If Martin and Contreras can duplicate their previous success in other leagues, the Cyclones will feature a balanced team that will cause a ruckus in the New York Penn League. If not, the pitching staff will have to hold down the fort in Coney Island until the cavalry decides to join the fight.
All photos for this article were taken by Conroy Walker